Levelmaster Liquid Level Controller
The Levelmaster is a liquid level controller utilising exclusive Braude technology to provide a high and low control of liquid level. It enables heaters or pumps to be switched on or off at the high and low points as required.
The technology using an optimised ac wave operating at very low voltage to enable the switching and is completely resistant to stray currents so is ideal for use in plating environment.
The Braude level probe is robust and completely non corrodible.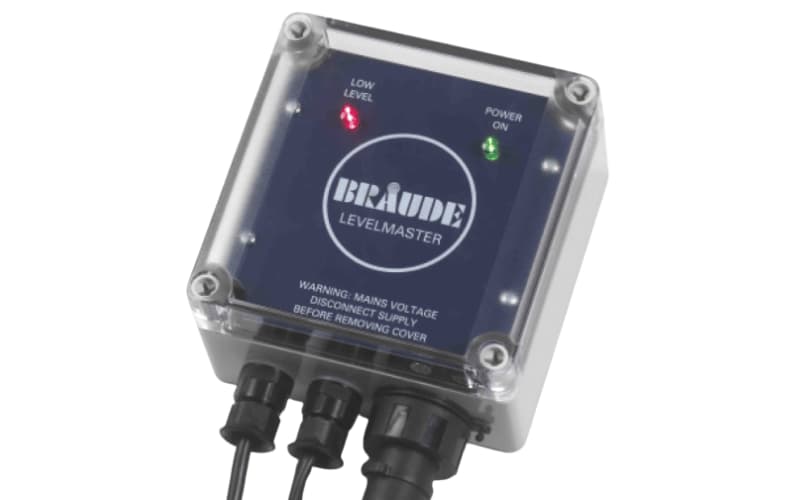 Low level heater protection
Suitable for most aqueous or conductive solutions

Suitable for any vessel: steel, polymer or fiberglass

High level to switch pumps on/off
High sensitivity version available for deionised water
Probe has no moving parts
High level only, low level only or dual operation
Low voltage AC detection circuit (no plating build up)
Easy setting of control height
HPD version available for use with Polaris heaters
Dimensions: 125mm x 125mm x 75mm deep
Levelmaster Technical data

Enclosure

Surface mounted to IP65

Dimension

Controller 125mm x 125mm x 75mm

Connections

Probe connection via Braude 3 pin plug.
Mains 240V flying lead 1m standard

Output Mains 240V flying lead 1m standard.

Volt free option available

Additional

Compatible with all Braudemaster controllers