Temperature and Level Probes
Have been specifically designed for operation with the Braudemaster range of controllers
Both probes are supplied 0.5m long with a 2m lead as standard with longer lengths available to order. The lead is fitted with a 2 or 3 pin plug to IP67 for connect to the controller. A fixing clip is supplied for tank mounting.
Temperature probe.
This consists of a PT100 sensor accurate to +/- 1oC, fully sealed in a Teflon sheathing by a special process. It is recommended that all probes are paired with a controller which will be calibrated prior to despatch, however, full calibration instructions are given for replacement probes.
The sensor is sited in a sturdy outer tube usually in PP with other materials available for difficult liquids. This tube ensures a secure mounting within a process tank avoiding any danger of probes getting tangled with workload.
Level probe.
The level probe consists of 3 filament sensors, one common. One high and one low level. These are simply cut and trimmed to length on site to give control points at the desired heights.
The sensors are mounted to the outside of a central rod to prevent stray current tracking and solid build up.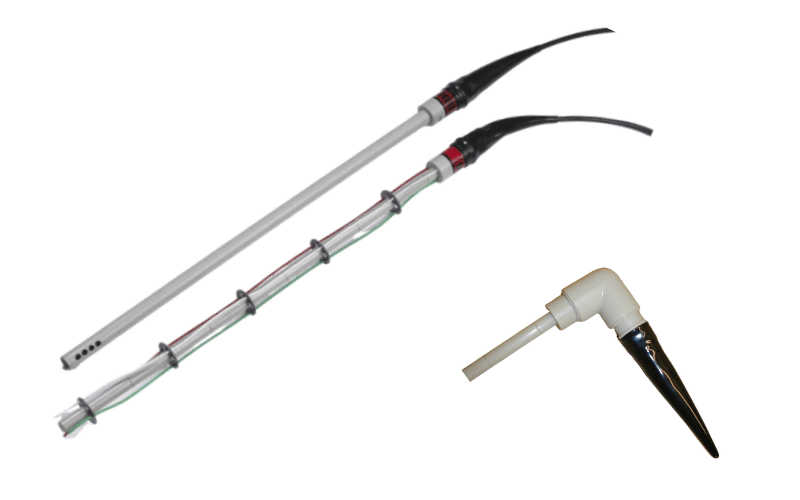 All solutions where Braudemaster controllers are used
Non-corrodible, deposit resistant and virtually unbreakable.
Firm, rigid location system
Leads 0.5m standard, extendible or ordered to suit

Fitted with integral moisture proof plugs for connection to Master controllers


Sturdy robust constructions to withstand the danger of damage when used in tank.
Probes Technical data

| | |
| --- | --- |
| Material | PP or PVDF tube |
| Dimension | O.5-1.5m long as standard with longer lengths available to order |
| Connections | 2 or 3 pin IP67 connectors to suit Braudemaster controllers |
| Additional | Vertical head as standard with right angle available as an option. |