BRAUDE Heavy Duty Chemical Transfer Pump
The Braude Heavy Duty pump is a short coupled transfer pump manufactured in high integrity polymers and with a choice of internal or external water flushed seals, suitable for highly corrosive solutions such as Hydrochloric, Hydrofluoric, Nitric, Sulphuric acids and other aggressive chemicals.
The pump is constructed from high performance polymers such as PVDF, cPVC for high chemical and impact resistance.
A choice of mechanical seals is available including non metallic for chemical general chemical transfer and double water flushed seals for solutions that contain solids such as electroless plating or acid pickling. Water regulating kits can be supplied with the pumps.
Available in motor sizes from 0.37kW to 1.5kW either single phase or three phase.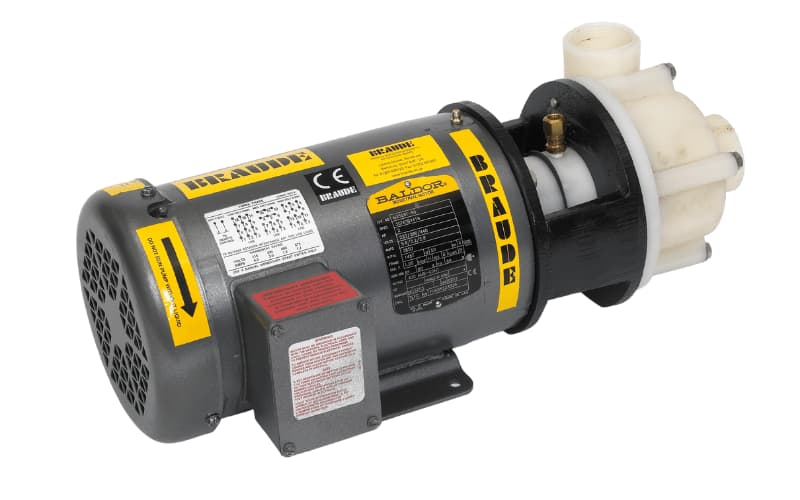 Acid pickling
Electroless plating
Chemical transfer systems
Caustic cleaning CIP systems
Body in PVDF, PVC or PP
Handles solutions containing solids
High temperature performance up to 100°C
Corrosion & stain resistant
High flow rate delivered at high head Flow rates up to 22m3 /hr
Open non clogging impeller
Choice of mechanical seals to suit application
Double water flushed seal available for solutions containing solids
Twelve months warranty

HD Pump Technical data

Material

PP /PVDF/ CPVC Rigid polymer body with viton O rings

Dimension

See data sheet

Connections

40mm connections inlet and outlet

Additional

Motors: 0.25kW to 1.5kW

single phase or three phase