Thermaster Temperature Controller
The Thermaster is a fully automatic temperature controller which will operate without attention once set up. The enclosure is designed for surface mount making it suitable for operation at the point of use and is completely moisture proof sealed to IP65. It has a large clear display.
Easy to install; fitted with flying leads and is compatible with other electrical equipment. It has a simple relay operation allowing a volt free output if required.
The controller operates on 240V as standard, 110V available.
Probes are fully non-corrodable, deposit resistant and virtually unbreakable. They are supplied with 0·5m probe length with a 2m lead as standard, with longer lengths available to order.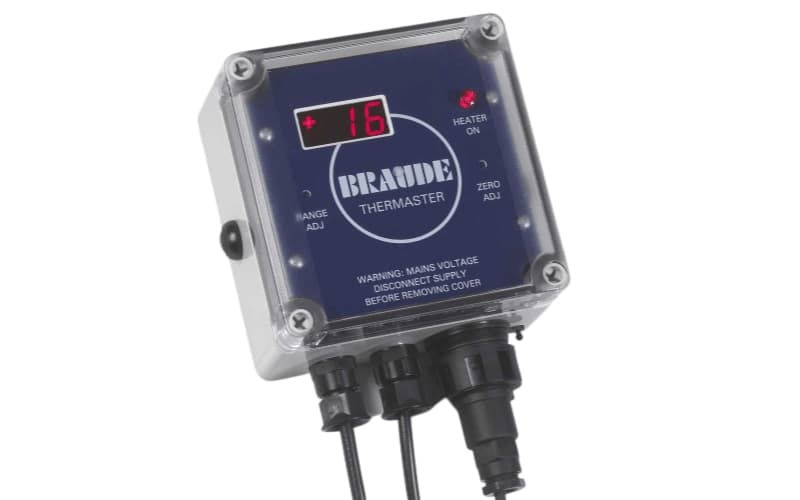 Steel strip wire & tube pickling
Chemical plants
Metal finishers
Galvanising
Glass producers
Aerospace industry
Chemical milling
PT100 sensor, no capillary or compensating cable, no moving parts.
Permanent clear display of solution temperature
Relay operation: 2 or 3 wire output, break on rise (std) or make on rise*
Simple set point adjustment
Easy to calibrate:
Range -10°C to +110°C, ±1°C accuracy
Heater on display
Clear probe fault indication
Thermaster Technical data

Enclosure

Surface mounted to IP65

Dimension

Controller 125mm x 125mm x 75mm

Connections

Probe connection via Braude 2 pin plug.
Mains 240V flying lead 1m standard

Output Mains 240V flying lead 1m standard.

Volt free option available

Additional

Compatible with all Braudemaster controllers